---
Regional exploration identifies high-grade gold in a mineralised system in the north west of Plomosas concessions areas.
Samples returned assay values up to 61.0g/t Au, 27.5g/t Au and 7.42g/t Au
Exploration on the gold targets to be prioritised
Regional exploration to continue definition of additional targets for both gold and zinc.
---
Consolidated Zinc Limited (ASX:CZL) (Company or CZL) is pleased to announce that high-grade gold mineralisation has been confirmed at its 100% owned Plomosas concessions, located to the north-west of the current zinc-lead-silver mining operations at Plomosas, operated by CZL's wholly owned subsidiary, Minera Latin American Zinc S.A.P.I de C.V. (MLAZ)
Geological mapping of the sequence trending to the north-west of the Plomosas zinc-lead-silver mine has identified what appears to be an additional gold mineralised system.
First pass rock chip results of outcrops and old workings returned exciting results with grades up to 61.0g/t Au, 27.5g/t Au and 7.42g/t Au, with the highlights presented in Table 1 below. Refer to Table 2 for the results of rock-chip samples.
The system is defined by complex, kilometre-scale geological structures associated with several geophysical anomalies and mineralised outcrops and workings. Historical small-scale mining of high-grade gold and copper quartz veins was undertaken but there have been no previous modern gold exploration methods completed within the Plomosas concessions to assess the implication or potential of these occurrences. Consequently, these results are very encouraging.
Figure 1 shows the location of the main gold prospects within the Plomosas concessions, along with structural features, while Figure 2 illustrates the locations of mineralisation along with geology and structural features.
The rock chip results, indicate identification of a potential gold system over an area of at least one kilometre (1km) within the Plomosas concessions. This will be followed up with an aggressive exploration program to define targets. Mapping and sampling are currently ongoing, and results will be made announced as received.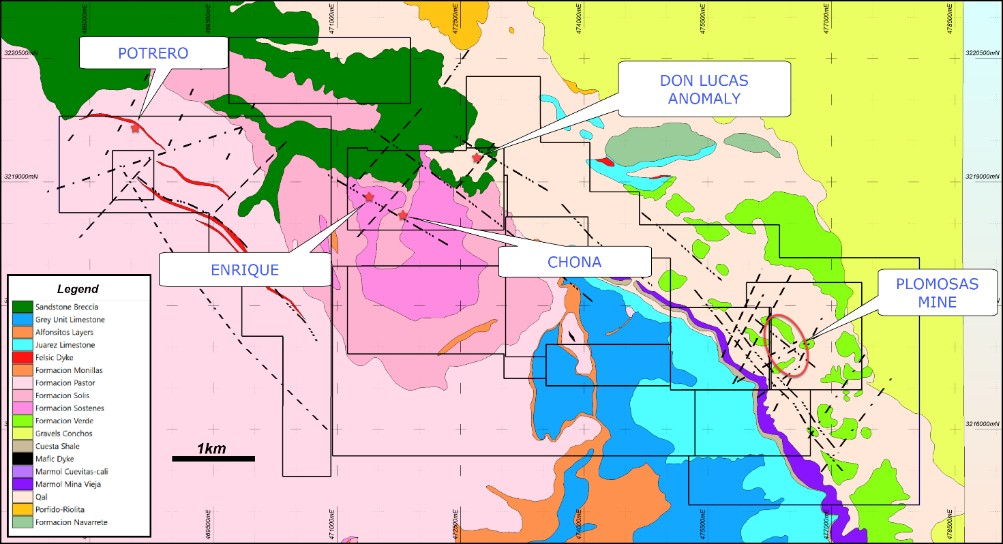 Chona and Enrique Vein Systems
Located approximately 5km to the west-northwest of Plomosas zinc-lead-silver mine and within the Don Lucas concession, the Chona and Enrique mineralisation occur as thin veins developing to wider zones of mineralisation, interpreted to be mesothermal in origin. Veins in the immediate Chona area are typically around 20-30cm in thickness, however previous reports have noted veins up to 1.2 metres thick, with a visual strike extent of around 100 metres with a dip of 80O and strike of 330O.
Veins are granular, containing quartz, carbonate and haematite as gangue to malachite at around 3%. Zonation in the veins show a malachite centre with haematite rims and edges.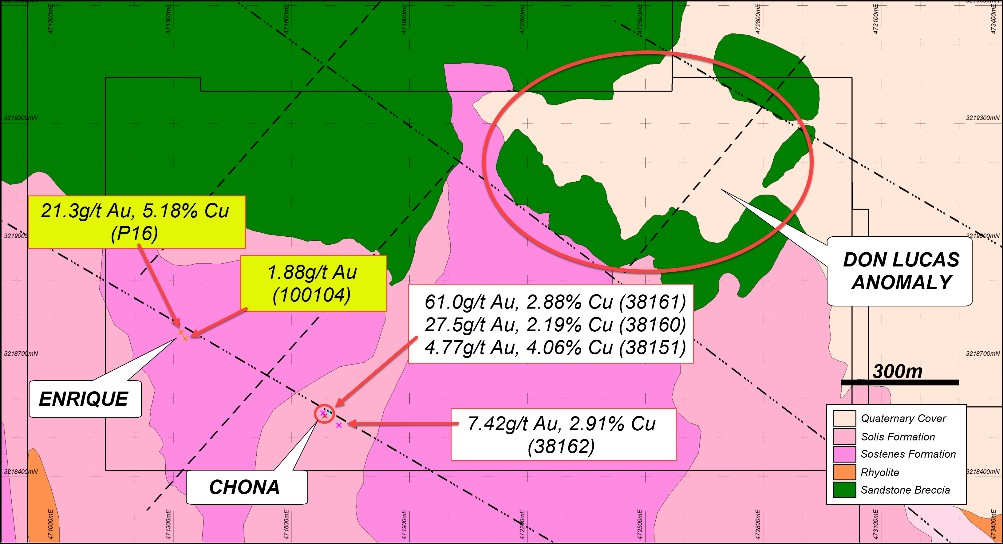 The Chona veins have previously been worked by locals, creating a strike drive from which around 1,200 tonnes (field estimation only) was removed, shown in Figure 5.
Historical assay values from Chona include 8.37g/t Au, 2.45% Cu (Schultz, 2006), 10.4g/t Au, 5.18% Cu (Goodell 2009), 11.23g/t Au, 6.0% Cu (Secretaria de Desarrollo Industrial, 2008) and 0.877g/t Au, 17.1% Cu, (Laforest 2010).
The Enrique veins are interpreted to be the continuation of the Chona veins system and are located 420 metres further to the northwest. Enrique is a thicker vein system, can be traced on surface for around 60 metres, varies from 1.5 to 3 metres in thickness and is similar mineralogy to the Chona vein. The veins dip 65O to the north east with a strike of around 345O. There is potential for the gold bearing veins to swell, narrow and cluster along strike, refer to Figure 6.
Historic assays from Enrique are 21.3g/t Au and 2% Cu, (Goodell, 2008).
MLAZ samples collected from Chona returned values of:
61.0g/t Au, 6.9g/t Ag, 2.88% Cu (sample 38161);
27.5g/t Au, 4.1g/t Ag, 2.19% Cu (sample 38160);
7.42g/t Au, 4.2g/t Ag, 2.91% Cu (sample 38162); and
4.77g/t Au, 3.8g/t Ag, 4.06% Cu (sample 38158).
These areas are considered highly prospective and will be assessed further during the 2020 exploration year.
TMI 1VD air magnetics in the Don Lucas area shows several linear blocks defined by strong northwest structures. Along one of these northwest lineaments occur the mineralisation that is Chona and Enrique veins. Figure 7 shows the location of the samples with assay results, along a lineament as defined by magnetics.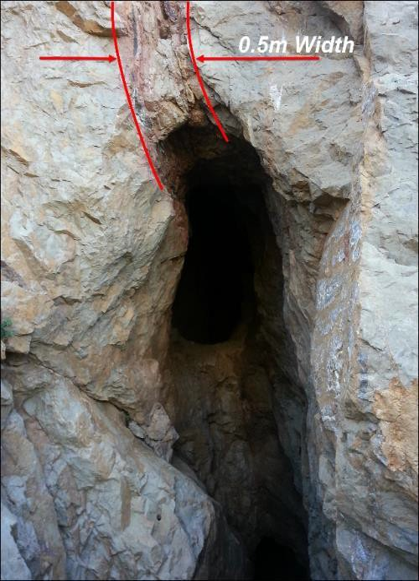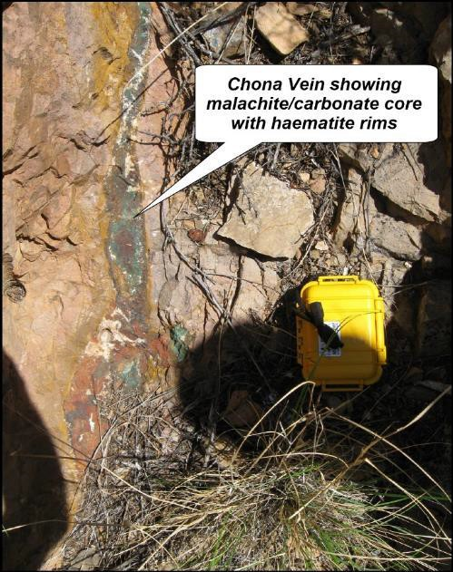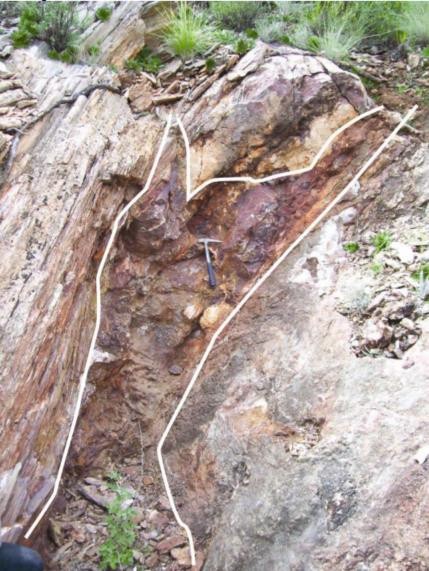 Potrero Project
This project is located in the north-western corner of Don Sebastian Concession located within Plomosas where previous mining activities are evident from small adits which, accessed mineralised breccia associated with a large felsic intrusive.
Potrero geology is complex and comprises thrusts zones and kilometre-scale folding. Late stage faulting is also noted which displaced layered sequences. There is a dominant felsic intrusive located in the concession that appears to have brecciated and altered the host rocks, and generated fluids for gold mineralisation. This is shown by the anomalous K-radiometrics and analogous ASTER clay imagery, that coincide with the position of the intrusive.
Imagery shows there is a relationship with alteration and the felsic sill, as there is a moderate magnetic signature with coincident K-radiometric anomaly running along the eastern shoulder of the sill. Refer to Figures 8, 9 10 and 11.
Historic assays returned values of 14.65g/t Au, (sample 100126), 16.0g/t Au (sample 100120) 8.20g/t Au (sample 177059), 2.47g/t Au (sample 100119), 1.56g/t Au (sample 100118) and 1.24g/t Au (sample 177055). Samples 100120, 177059 and 100119 come from the old mill and mullock piles. Samples 100126, 100118 and 177055 were sampled from outcrop accessed within the adits.
The Company took only one sample from this area which returned a grade of 2.55g/t Au (sample 38175) however, the sample was from the same mullock pile as the historic sampling.
Potrero is adjacent to an intrusive sill notable in mapping and in the airborne magnetics, which extends for more than a kilometre. Gold mineralisation from previous work related to this intrusive and presenting at half ounce grades is very exciting.
Additional work is planned to test if any gold mineralisation related to the intrusive is present.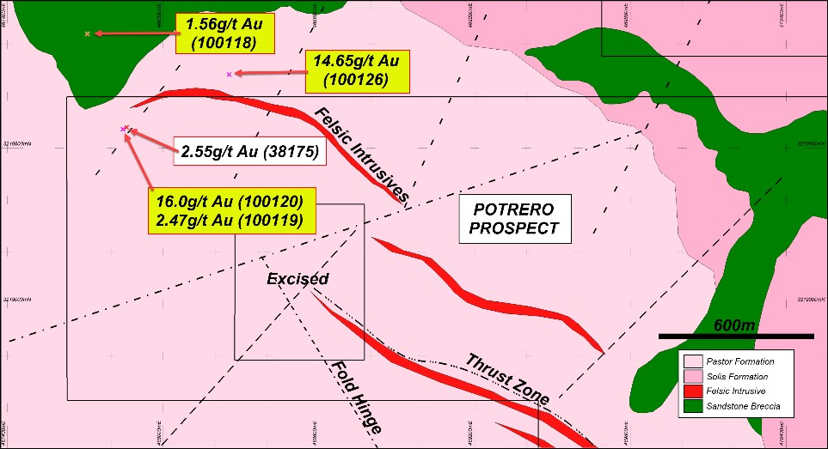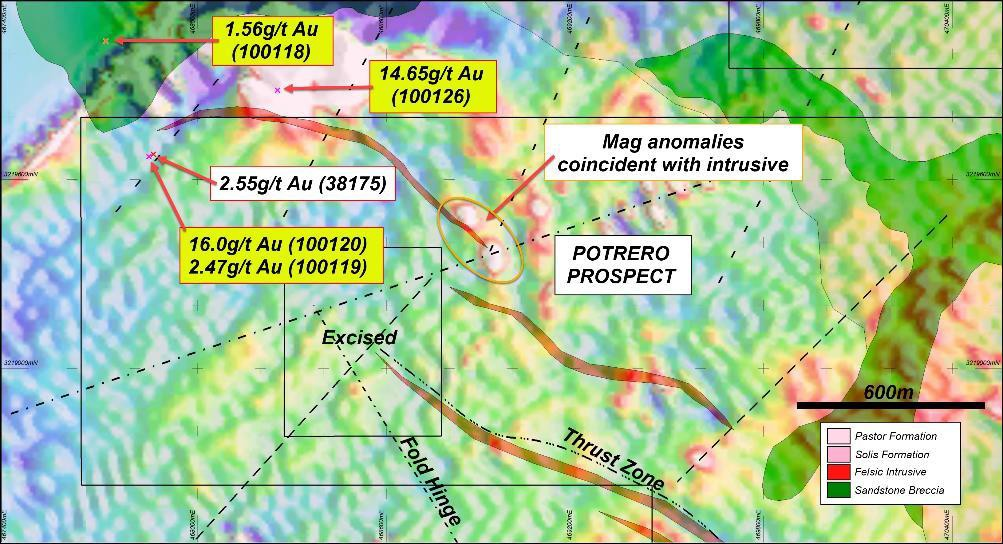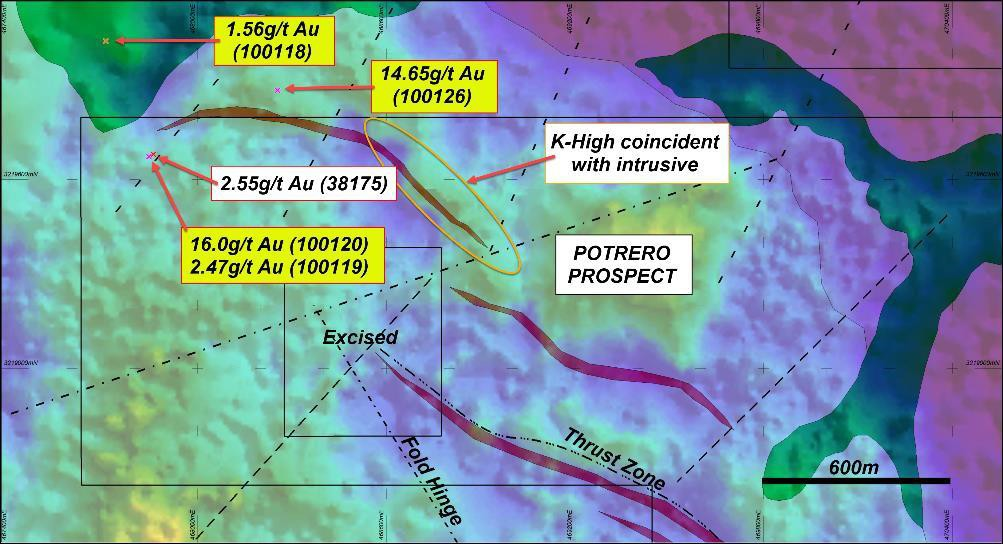 Don Lucas Anomaly
This prospect is defined by large coincident ASTER and K-radiometric anomalies, coupled with magnetic signatures in the north-eastern corner of the concession, particularly one magnetic high located at 472843.8mE; 3219259.7mE. This magnetic high complements the K-radiometric high, which appears to Indicate the presence of alteration style clays.
Lineaments displaying offset structural features in the prospect also suggest they may be hosts to mineralisation.
Figures 3 and 7 show the location of the rock chip samples, in relation to the anomalous signatures to the southwest. The ASTER results shown in Figure 2, highlight clay alteration which is coincident with the K-radiometrics image which may indicate an alteration trend. (Figure 3).
This announcement was authorised for issue to the ASX by the Directors of the Company. For further information please contact:
Brad Marwood
Managing Director
08 9322 3406
ABOUT CONSOLIDATED ZINC
Consolidated Zinc Limited (ASX: CZL) is a minerals exploration company listed on the Australian Securities Exchange. The Company's major focus is in Mexico where it acquired 100% of the exciting high grade Plomosas Zinc Lead Silver Project through its majority owned subsidiary, Minera Latin American Zinc CV SAPI. Historical mining at Plomosas between 1945 and 1974 extracted over 2 million tonnes of ore grading 22% Zn+Pb and over 80g/t Ag. Only small-scale mining continued to the present day and the mineralised zones remain open at depth and along strike. The Company's main focus is to identify and explore new zones of mineralisation within and adjacent to the known mineralisation at Plomosas with a view to identifying new mineral resources that are exploitable.
Competent Persons' Statement
The information in this report that relates to exploration results, data collection and geological interpretation is based on information compiled by Mr Steve Boda BSc (Hons), MAIG, MGSA, MSEG. Mr Boda is a Member of Australian Institute of Geoscientists (AIG).
Mr Boda has sufficient experience that is relevant to the style of mineralisation and type of deposit under consideration and to the activity that is being undertaken to qualify as Competent Person as defined in the 2012 edition of the 'Australasian Code for Reporting of Exploration Results, Minerals Resources and Ore Reserves' (JORC Code). Mr Boda consents to the inclusion in this announcement of the matters based on their information in the form and context in which it appears.
Table 2: Sample co-ordinates and results for the regional programs
| | | | | | | | | | | | |
| --- | --- | --- | --- | --- | --- | --- | --- | --- | --- | --- | --- |
| Project | Sample No | East WGS84 | North WGS84 | Elev (m) | Sample Type | Rocktype | Au (ppm) | Ag (ppm) | Pb % | Zn % | Cu % |
| La Chona | 38151 | 472829.13 | 3219530.03 | 1262.27 | 1m Channel | Limestone | 0.001 | 0.025 | 0.0006 | 0.0006 | 0.0014 |
| La Chona | 38152 | 472808.83 | 3219462.05 | 1279.23 | 1m Channel | Limestone | 0.00 | 0.03 | 0.00 | 0.00 | 0.00 |
| La Chona | 38155 | 471685.35 | 3218555.52 | 1511.17 | 1m Channel | Vein | 0.00 | 0.03 | 0.00 | 0.00 | 0.01 |
| La Chona | 38156 | 471682.56 | 3218558.22 | 1511.17 | Selected | Vein | 0.00 | 0.03 | 0.00 | 0.00 | 0.00 |
| La Chona | 38157 | 471682.56 | 3218558.22 | 1511.17 | Selected | Vein | 0.00 | 0.03 | 0.00 | 0.00 | 0.00 |
| La Chona | 38158 | 471684.97 | 3218555.26 | 1507.32 | Selected | Vein | 4.77 | 3.80 | 0.00 | 0.00 | 4.06 |
| La Chona | 38159 | 471684.97 | 3218555.26 | 1507.32 | 1m Channel | Limestone | 0.00 | 0.03 | 0.00 | 0.00 | 0.01 |
| La Chona | 38160 | 471680.15 | 3218562.25 | 1511.17 | Selected | Vein | 27.50 | 4.10 | 0.00 | 0.00 | 2.19 |
| La Chona | 38161 | 471680.12 | 3218563.91 | 1511.15 | Selected | Vein | 61.00 | 6.90 | 0.00 | 0.00 | 2.88 |
| La Chona | 38162 | 471720.25 | 3218531.45 | 1482.19 | 1m Channel | Limestone | 7.42 | 4.20 | 0.00 | 0.00 | 2.91 |
| Potrero | 38171 | 469840.01 | 3220766.22 | 1321.25 | Grab Sample | Limestone | 0.01 | 0.60 | 0.00 | 0.00 | 0.01 |
| Potrero | 38172 | 469733.36 | 3220613.93 | 1333.03 | Grab Sample | Limestone | 0.01 | 0.03 | 0.00 | 0.00 | 0.00 |
| Potrero | 38173 | 468704.45 | 3220251.19 | 1383.24 | Grab Sample | Gossan | 0.01 | 0.03 | 0.00 | 0.00 | 0.00 |
| Potrero | 38174 | 468630.02 | 3220250.83 | 1392.44 | Grab Sample | Gossan | 0.01 | 0.03 | 0.00 | 0.00 | 0.01 |
| Potrero | 38175 | 467859.23 | 3219680.59 | 1465.00 | Grab Sample | Breccia | 2.55 | 0.03 | 0.00 | 0.00 | 0.00 |
| Potrero | 38177 | 468535.59 | 3219068.54 | 1460.00 | Grab Sample | Breccia | 0.13 | 0.03 | 0.00 | 0.00 | 0.00 |
Original Article: file:///C:/Users/ALEJANDRO/Pictures/MMC%20News/Consolidated%20Zinc/24012030-High-grade-gold-mineralisation-identified-at-Plomosas-ASX-FINAL-LODGEMENT.pdf