(Bloomberg) — Tesla Inc.'s plans to roll out an all-electric big rig have given a fresh jolt to the outlook for battery metals that will go into powering the truck founder Elon Musk is calling "The Beast."
Banks including Goldman Sachs Group Inc., UBS Group AG and Bank of America Corp. are already forecasting a surge in demand for battery metals like nickel as sales of electric cars ramp up over the next decade. Usage could jump even higher if trucking firms start switching diesel fleets for battery-powered ones.
"This is a game changer," said Anthony Milewski, chairman and chief executive officer of Cobalt 27 Capital Corp., an investment vehicle providing price exposure to a stockpile of cobalt, which has spiked in the past year in response to booming projections for usage in electric vehicles. "People have known electric trucks are coming, but I don't think it's been priced into the forecasts the banks are putting out."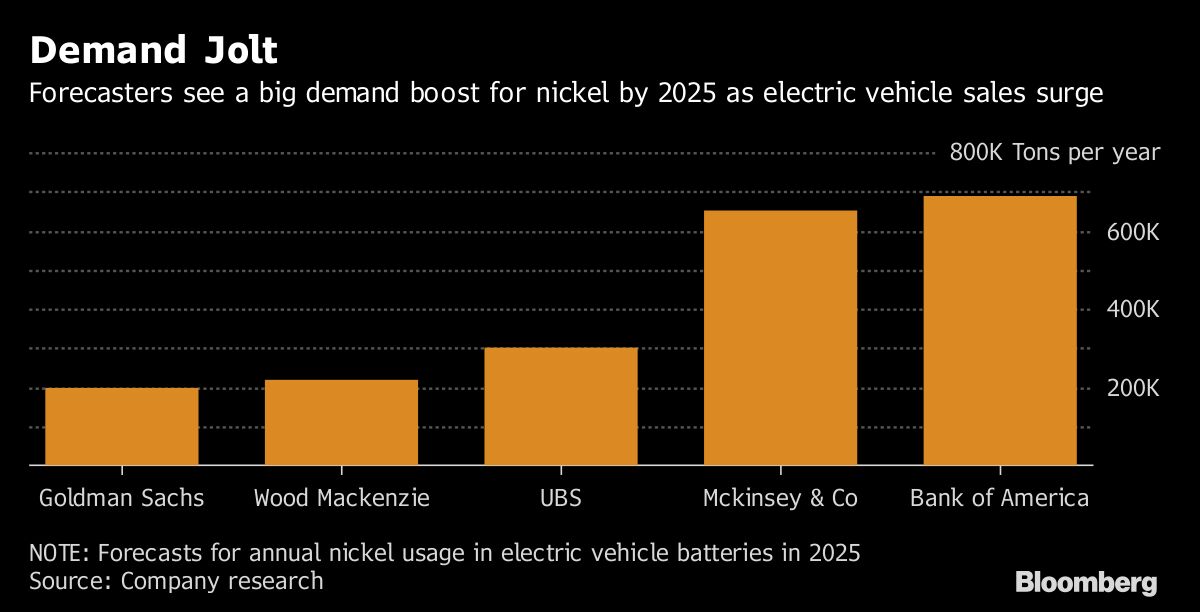 Nickel futures in London rose as much as 1.5 percent on Friday to $11,525 a metric ton. The metal has risen about 15 percent this year as investors bet on the promise of electric cars, though is down from a high of $12,920 earlier this month.
A switch to electric trucks would be bad news for miners supplying the raw materials that go into conventional vehicles powered by fossil fuels. Demand for palladium, used to scrub emissions in gasoline engines, could drop by 90 percent by 2040 as electric vehicle sales climb, according to ABN Amro Bank NV.
Read: Electric vehicles may decimate one of this year's top commodities
Still, Tesla is already facing doubts about its ability to meet ambitious production targets, and manufacturing challenges could mount further if the big rig proves a sucess.
Tesla truck could also threaten big chunk of oil demand, read more here
For Milewski, a hit product is a distinct possibility. The path to acceptance is smoother for electric commercial vehicles than the passenger market, he said.
"Perhaps even more so than passenger vehicles, adoption of electric trucks could be incredibly fast because this isn't about consumer preference," he said. "It's about reducing costs in an industry in where margins are incredibly tight."