VANCOUVER, BC, March 1, 2023 /CNW/ – GR Silver Mining Ltd. ("GR Silver Mining" or the "Company") (TSXV: GRSL) (OTCQB: GRSLF) (FRANKFURT: GPE) – is pleased to announce the final batch of underground drilling results from the Plomosas Mine Area as part of the 2022 infill and exploratory drilling program at the Company's wholly-owned Plomosas Project in Sinaloa, Mexico.
The 28 drill holes being reported in this announcement were all drilled from within the historic Plomosas Mine Area, mainly above the 900 level, targeting the wide polymetallic Plomosas Breccia in unmined areas close to existing underground development and access (Figure 1). The infill drilling program achieved its objective to better delineate new mineralized zones and to replace un-sampled historical holes previously adopted in the 2021 resource estimation.
Highlights from the underground drilling results (Down hole widths):
PLIP22-094: 21.7 m at 158 g/t Ag, 0.05 g/t Au, 1.9% Pb, 1.8% Zn and 0.1% Cu (301 g/t AgEq1)
including: 5.8 m at 427 g/t Ag, 0.09 g/t Au, 4.9% Pb, 1.4% Zn and 0.1% Cu (648 g/t AgEq)
PLIP22-092: 13.0 m at 161g/t Ag, 0.20 g/t Au, 1.0% Pb, 1.5% Zn and 0.1% Cu (273 g/t AgEq)
PLIP22-089: 5.4 m at 325 g/t Ag, 0.54 g/t Au, 3.1% Pb, 2.5% Zn and 0.1% Cu (567g/t AgEq)
including: 2.5 m at 524 g/t Ag, 0.19 g/t Au, 2.7% Pb, 0.8% Zn and 0.1% Cu (660 g/t AgEq)
PLIP22-078: 4.7 m at 277 g/t Ag, 0.75 g/t Au, 7.5% Pb, 2.1% Zn and 0.2% Cu (666 g/t AgEq)
The drilling results continue to reveal attractive wide high-grade silver-polymetallic mineralization in unmined areas at the upper levels of the historic underground mine. These results continue to demonstrate the potential to incorporate wide and attractive polymetallic results into the upcoming resource estimation, scheduled for completion by the end of Q1|2023.
GR Silver Mining Chairman and CEO, Eric Zaunscherb comments, "The upcoming resource estimation is expected to define a significant resource dominated by silver mineralization over broad widths, relatively close to surface or existing underground infrastructure. We consider these attributes to contribute to GR Silver Mining's competitive advantages, along with project scale and prospectivity, and the management and board skills to take the project to the next level. We anticipate a potential market re-rating related to the resource estimation update, based on scale and quality of resources."
---
1 See Table 1 footnote for details of AgEq calculation
The 186 drill holes (11,750 metres), completed by GR Silver Mining at the Plomosas Mine Area since the 2021 resource estimation, have added important core drilling in specific areas of the existing NI 43-101 resource block model, which together with 36,400 metres of historical drilling completed by First Majestic, Aurcana and IMMSA, provide a higher density and confidence of information for the resource estimation in progress.
The highlights of the drill holes reported in this news release are summarized as follows:
Table 1: Plomosas Mine Area – Latest Results Highlights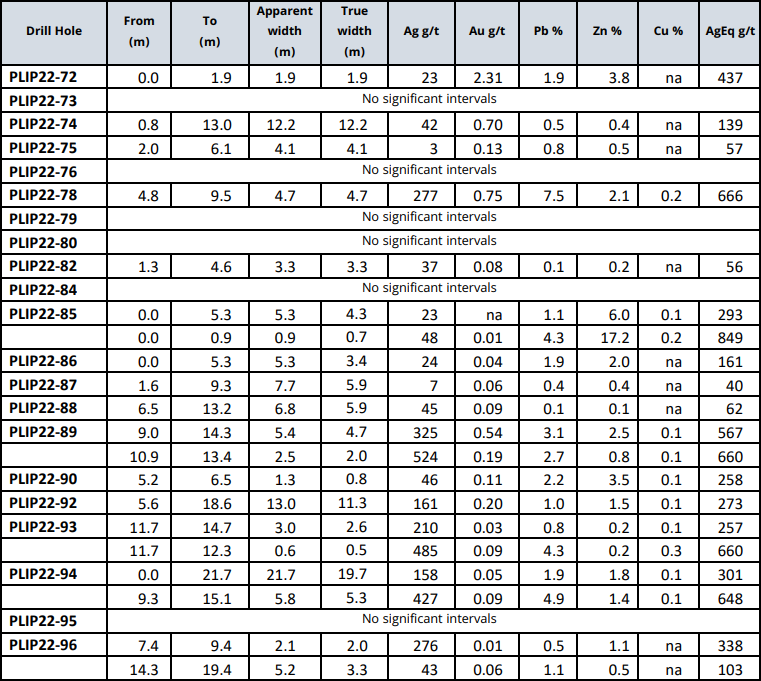 Numbers may be rounded. Results are uncut and undiluted.  "na" = no significant result
* AgEq calculations using US$20.00/oz Ag, US$1,600/oz Au, US$0.90/lb Pb, US$1.10/lb Zn and US$3.00/lb Cu, with metallurgical recoveries of Ag – 74%, Au – 86%, Pb – 69%, Zn –75% and Cu – 80%. AgEq = ((Ag grade x Ag Price x Ag recovery) + (Au grade x Au price x Au recovery) + (Pb grade x Pb price x Pb recovery) + (Zn grade x Zn price x Zn recovery) + (Cu grade x Cu price x Cu recovery))/(Ag price x Ag recovery)
Table 2: Plomosas Mine Area Latest Drill Hole Details
Drill Hole
East (m)
North (m)
RL (m)
Dip (˚)
Azimuth
(˚)
Depth (m)
Drill Hole
Type
PLI22-53
451307
2551909
818
55
270
78.0
Underground
PLIP22-60
451532
2552237
897
45
310
16.0
Underground
PLIP22-61
451517
2552066
917
-44
110
18.7
Underground
PLIP22-62
451512
2552050
919
-44
140
16.5
Underground
PLIP22-64
451474
2552010
903
-53
103
15.0
Underground
PLIP22-66
451473
2551899
903
-32
50
14.7
Underground
PLIP22-71
451297
2551672
801
-47
65
17.75
Underground
PLIP22-72
451325
2551606
801
-50
50
18.0
Underground
PLIP22-73
451350
2551595
802
-60
47
16.0
Underground
PLIP22-74
451409
2551539
804
-26
320
15.0
Underground
PLIP22-75
451415
2551561
804
-25
329
15.0
Underground
PLIP22-76
451312
2551886
817
0
141
31.0
Underground
PLIP22-78
451232
2551853
801
-25
115
41.5
Underground
PLIP22-79
451377
2551581
802
-45
60
15.0
Underground
PLIP22-80
451378
2551568
803
-43
85
14.0
Underground
PLIP22-82
451345
2551862
851
-50
80
21.25
Underground
PLIP22-84
451410
2552076
854
0
270
12.4
Underground
PLIP22-85
451336
2551983
853
-20
260
20.5
Underground
PLIP22-86
451337
2551961
853
-45
90
12.5
Underground
PLIP22-87
451396
2551889
852
-20
70
29.0
Underground
PLIP22-88
451428
2551885
852
-45
80
38.0
Underground
PLIP22-89
451345
2551739
842
-80
110
28.0
Underground
PLIP22-90
451331
2551733
844
0
260
19.4
Underground
PLIP22-92
451400
2551467
882
-30
90
40.5
Underground
PLIP22-93
451367
2551951
881
-30
90
14.7
Underground
PLIP22-94
451387
2551974
880
-28
90
21.65
Underground
PLIP22-95
451330
2551892
873
-90
0
8.0
Underground
PLIP22-96
451342
2551939
869
-20
70
21.0
Underground
Note: WGS84 Datum
QA/QC Procedures
The Company has implemented QA/QC procedures which include insertion of blank, duplicate and standard samples in all sample lots sent to SGS de México, S.A. de C.V. laboratory facilities in Durango, Mexico, for sample preparation and assaying. For every sample with results above Ag >100 ppm (over limits), these samples are submitted directly by SGS de Mexico to SGS Canada Inc. at Burnaby, BC. The analytical methods are four acid Digest and Inductively Coupled Plasma Optical Emission Spectrometry with Lead Fusion Fire Assay with gravimetric finish for silver above over limits. For gold assays the analytical methods are Lead Fusion and Atomic Absorption Spectrometry Lead Fusion Fire Assay and gravimetric finish for gold above over limits (>10 ppm).
Qualified Person
The Qualified Person under National Instrument 43-101 Standards of Disclosure for Mineral Projects for this news release is Marcio Fonseca, P. Geo., President & COO for GR Silver Mining, who has reviewed and approved its contents.
About GR Silver Mining Ltd.
GR Silver Mining is a Canadian-based, Mexico-focused junior mineral exploration company engaged in cost-effective silver-gold resource expansion on its 100%-owned assets, located on the eastern edge of the Rosario Mining District, in the southeast of Sinaloa State, Mexico. GR Silver Mining controls 100% of two past producer precious metal underground and open pit mines, within the expanded Plomosas Project, which includes the integrated San Marcial Area and La Trinidad acquisition. In conjunction with a portfolio of early to advanced stage exploration targets, the Company holds 734 square kilometres of concessions containing several structural corridors totaling over 75 kilometres in strike length.
GR Silver Mining Ltd.
Eric Zaunscherb, Chairman & CEO
Cautionary Statement Regarding Forward-Looking Information
This press release contains "forward-looking statements" within the meaning of applicable Canadian securities legislation and information that are based on the beliefs of management and reflect the Company's current expectations. When used in this press release, the words "estimate", "project", "belief", "anticipate", "intend", "expect", "plan", "predict", "may" or "should" and the negative of these words or such variations thereon or comparable terminology are intended to identify forward-looking statements and information. Such statements and information reflect the current view of the Company. Risks and uncertainties may cause actual results to differ materially from those contemplated in those forward-looking statements and information. By their nature, forward-looking statements involve known and unknown risks, uncertainties and other factors which may cause our actual results, performance or achievements, or other future events, to be materially different from any future results, performance or achievements expressed or implied by such forward-looking statements.
Neither the TSX Venture Exchange nor its Regulation Services Provider (as that term is defined in the policies of the TSX Venture Exchange) accepts responsibility for the adequacy or accuracy of this press release.
SOURCE GR Silver Mining Ltd.
For further information: Brenda Dayton, VP Corporate Communications, Telephone: +1.604.417.7952, Email: [email protected]
Original Article: https://www.newswire.ca/news-releases/gr-silver-mining-reports-drill-hole-results-from-the-plomosas-mine-area-5-8-m-at-427g-t-ag-809354105.html