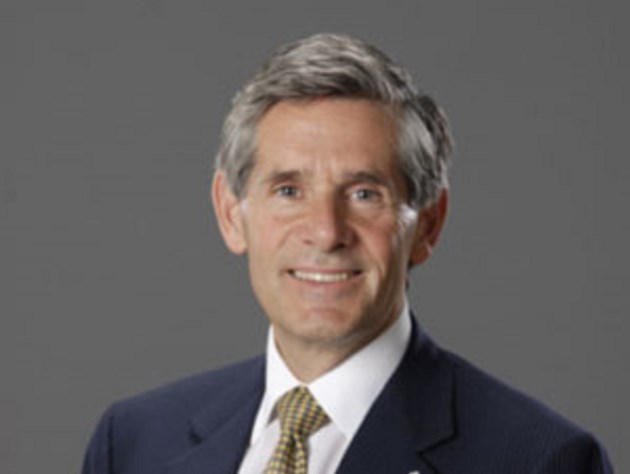 Goldcorp founder Robert McEwen named to the Canadian Hall of Fame. Photo courtesy of McEwen Mining.
Robert (Rob) McEwen, the founder of Goldcorp, one of Timmins' largest employers and the operators of the Dome Mine, the Hollinger Open Pit and Hoyle Pond was inducted into the Canadian Mining Hall of Fame this past month in Toronto at the Metro Toronto Convention Centre.
The induction dinner held every January celebrates the accomplishments of men and women who have had a major impact on the Canadian mining industry.
"Rob is a man of rare talents, he is a natural innovator with a keen business mind," Michael Wekerle, chairman and co-founder of Difference Capital. "He is a strategic thinker – the consummate chess player – whose every move is calculated and well ahead of his opponents."
McEwen has said that Don McEwen, his father, was his inspiration in life. When his father returned from World War 2 he was told by doctors he would never be able to walk again.
Don McEwen refused to believe the doctors' assessment and worked hard to regain the use of his legs and eventually he could walk again.
"Today, I look at challenges and obstacles I face and say this seems to pale compared to what my dad faced," McEwen said in a video honouring his induction into the Canadian Mining Hall of Fame.
In the mid-1980s McEwen transformed the investment fund started by his father and Goldcorp, a company that invested in gold into largest gold mining company in Canada and among the top ten in the world.
In 1989, under McEwen's leadership Goldcorp purchased Dickinson Mine, an aging gold mine in the Red Lake gold camp of Northwestern Ontario and returned it to being an operating mine.
"And over the course of eight years, I took five companies and three corporate restructuring, as we compressed them into one, creating Goldcorp Inc.," McEwen said in a video.
Goldcorp gambled and continued to invested in Ontario's Red Lake gold mine district and stayed with it as the price of gold began to decline in the latter part of the 1990s.
Red Lake had been a prolific gold producer from its opening in the 1930s but gold production dropped during the 1970s and 1980s.
In the 1990s Goldcorp invested $10 million in an exploration program and produced the Campbell Lake gold mine. Goldcorp's Red Lake Mining division continues today and has expanded by developing the Cochenour deposit in addition to the Campbell and Musselwhite mines.
McEwen broke a cardinal rule of the mining industry in 2000, when he unveiled the Goldcorp Challenge. He publicly released 50 years of geological data and offered cash prizes to anyone who could verify where the next six million ounces of gold were in Red Lake.
The subsequent discoveries led to an estimated $6 billion of value from subsequent discoveries.
The Red Lake mine was transformed from a 50,000-ounce producer in 1997 to a 500,000-ounce producer in 2001, while cash costs fell from $360 per ounce to $60 per ounce over this period.
McEwen stepped down from Goldcorp after its high-profile $2.4-billion merger with Wheaton River in 2005 to focus on junior mining forming McEwen Mining.
Goldcorp acquired its holdings in Timmins after McEwen left the company. The purchase followed the strategy used in the acquisition gold mines in the Red Lake district. Timmins had been producing gold for nearly 100 years at the time of Goldcorp's acquisition of the Dome Mine from Barrick Gold, a company that had only recently acquired it from Placer Dome.
Coinciding with the purchase of the Dome mine, Goldcorp then purchased, Hoyle Pond, Pamour, McIntyre Mine and Hollinger from Kinross.
Goldcorp is a strong and vital part of gold mining in the Timmins area continuing to operate Hoyle Pond, Dome, the Dome mill and the Hollinger Open pit.
In December, current mine manager Marc Lauzier announced a that Goldcorp would be expanding its operations at the Dome with the discovery of additional gold deposits. The new project known as Dome Project is predicted to have capacity to produce until 2035.
In addition, Goldcorp also purchased Probe Mines near Chapleau in 2015, which it hopes to operate as the world's first fully automated mine.
McEwen was born in 1950 went to St. Andrew's College and received a B.A. from Western University and an MBA from York University.
His first exposure to the mining industry was a summer job at INCO while he was still a university student.
McEwen and his wife have donated more than $50 million to encourage excellence, innovation and leadership in healthcare and education. He also contributed to the Red Lake Margaret Cochenour Memorial Hospital, the Red Lake Regional Heritage Centre, St. Andrews College Leadership Program, and most recently the McEwen School of Architecture at Laurentian University.
McEwen has been named "Developer of the Year" for 2001, Mining Man of the Year for 2002, Most Innovative CEO in 2006, and the Order of Canada in 2007.
McEwen's current focus is McEwen Mining a company that he said went from $15 million to just under $70 million in cash.
The others inducted into the Canadian Mining Hall of Fame in January are James Carter, Donald McLeod, William (Steve) Vaughan and John Zigarlick, Jr.
Original Article: https://www.timminstoday.com/local-news/goldcorp-founder-robert-mcewen-inducted-into-the-canadian-mining-hall-of-fame-522292