SOLD 42,757 GOLD EQUIVALENT OUNCES, EXCEEDING 2022 GUIDANCE
NET LOSSES OF $6.3 MILLION AND EBITDA OF $29.5 MILLION
STRONG CASH BALANCE OF $23.7 MILLION AT YEAR END
MINERAL RESOURCE AND RESERVES REPLACED 88% AND 74%, RESPECTIVELY
2022 FINANCIAL RESULTS REMAIN UNAUDITED, BDO USA, LLP, STILL TO COMPLETE FINAL AUDIT PROCEDURES AND RESULTS WILL BE RELEASED WITH THE 10-K
DENVER–(BUSINESS WIRE)–Gold Resource Corporation (NYSE American: GORO) (the "Company") sold a total of 30,119 ounces of gold and 1,057,209 ounces of silver in 2022 for a total of 42,757 gold equivalent ounces. Additionally, during the year, the Company sold 14,157 tonnes of zinc, 1,348 tonnes of copper, and 5,391 tonnes of lead. For the year ended December 31, 2022, the company reported a net loss of $6.3 million with revenue of $138.7 million and mine gross profit of $29.7 million from operations. A total of $31.3 million was invested in the Don David Gold Mine and Back Forty Project.
Allen Palmiere, President and CEO, said, "Despite global challenges faced this year, such as inflation, and localized challenges such as ground support and ventilation, gold and silver production at the Don David Gold Mine in Mexico still ended the year above guidance. We also made excellent strides with our operations, capital, and exploration programs. The results of the Q4 2022 drilling at DDGM are very promising and have confirmed the ongoing 2023 drill program is on the right track to potentially deliver higher grade resources into the near- and mid-term mine plan. With improved access and ventilation our team can now aggressively continue with the underground infill and expansion drilling to follow-up these positive results. While our grade profile is expected to decline in 2023, we continue to identify and implement productivity improvements. Work continues with the feasibility study to advance the Back Forty Project in Michigan with a deliberate and measured approach. Upon completion, preparation of State of Michigan permits will follow. In both Mexico and Michigan, we are focused on collaborating with local communities to ensure sustainability."
2022 HIGHLIGHTS
Additional highlights for the year ended December 31, 2022, are summarized below:
Strategic:
Cash inflow of $14.2 million from operating activities for 2022, which included $18.6 million of income tax payments for tax years 2021 and 2022.
Distributions to shareholders of $3.5 million in shareholder dividends prior to the February 13th, 2023, announcement of the suspension of future quarterly dividends to protect our balance sheet and to focus capital resources on exploration and growth opportunities.
Investments of Canadian dollar ("C$") 2.4 million (approximately $1.7 million) in Maritime Resources Corp. (TSX-V: MAE.V) ("Maritime") in exchange for 9.9% of Maritime's shares in a private placement.
Don David Gold Mine:
The DDGM safety program aims to bolster the overall health and safety culture of our employees.

There were six lost time incidents during 2022. The incidents were thoroughly investigated, and the appropriate actions were taken.
The full year lost time injury frequency rate per million hours of 2.5 which is substantially below the 5.7 Camimex (Mexican Chamber of Mines) benchmark.

Don David Gold Mine ("DDGM") total cash costs (after co-product credits) and total all-in sustaining cost per gold equivalent ("AuEq") ounce sold were $458 and $788, respectively (See "Reconciliation of Non-GAAP Financial Measures" below).
During the year, exploration continued to focus on infill drilling with encouraging results from the Arista, Three Sisters, and Switchback vein systems. However, we faced localized ground conditions and ventilation challenges that slowed drift extensions to multiple underground drill stations. Those technical issues have been addressed, and we have commenced step-out drilling in multiple highly prospective areas.
Back Forty Project:
The feasibility study work for the Back Forty Project in Michigan, USA progressed during 2022. Work related to metallurgy and the economic model will continue with a deliberate and measured approach and is expected to be completed in the first half of 2023.
Once the feasibility study is completed, the Company's Board of Directors will evaluate the current economic climate and make a decision on how to move forward with the permitting and construction of the Back Forty Mine.
The Company continues to meet with the community and government agencies to demonstrate the value of this project.
Full Year 2022 Financial Results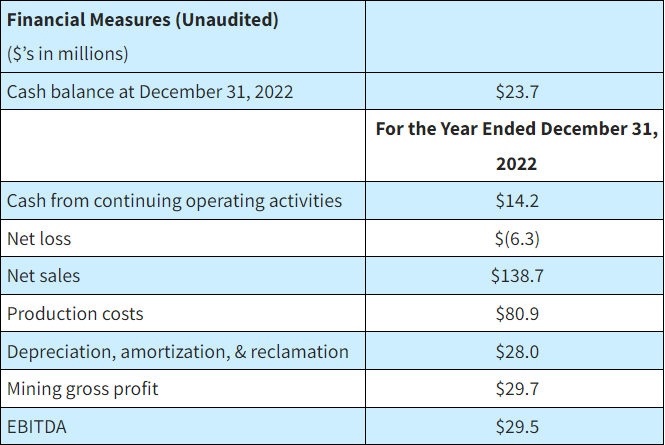 2022 Capital and Exploration Investment Summary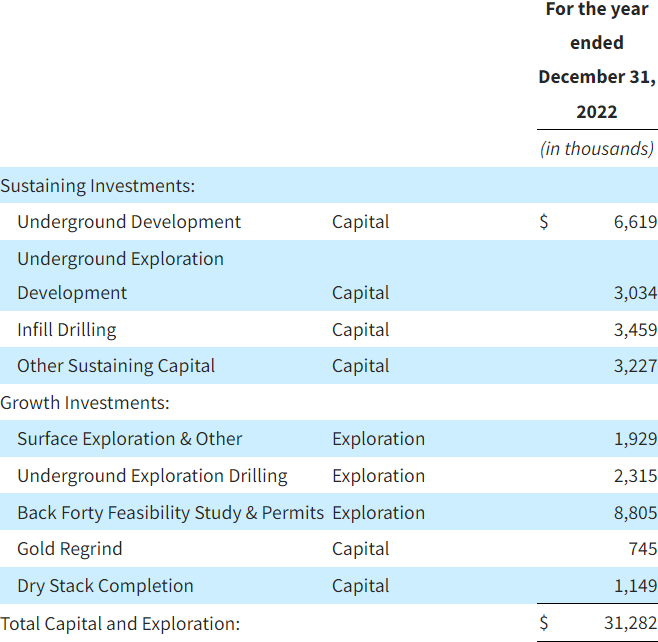 Reconciliations of Non-GAAP Financial Measures
The calculations of cash cost after co-product credits per gold equivalent ounce and all-in sustaining cost after co-product credits per AuEq ounce are non-GAAP financial measures. The following table reconciles these non-GAAP measures to GAAP measures: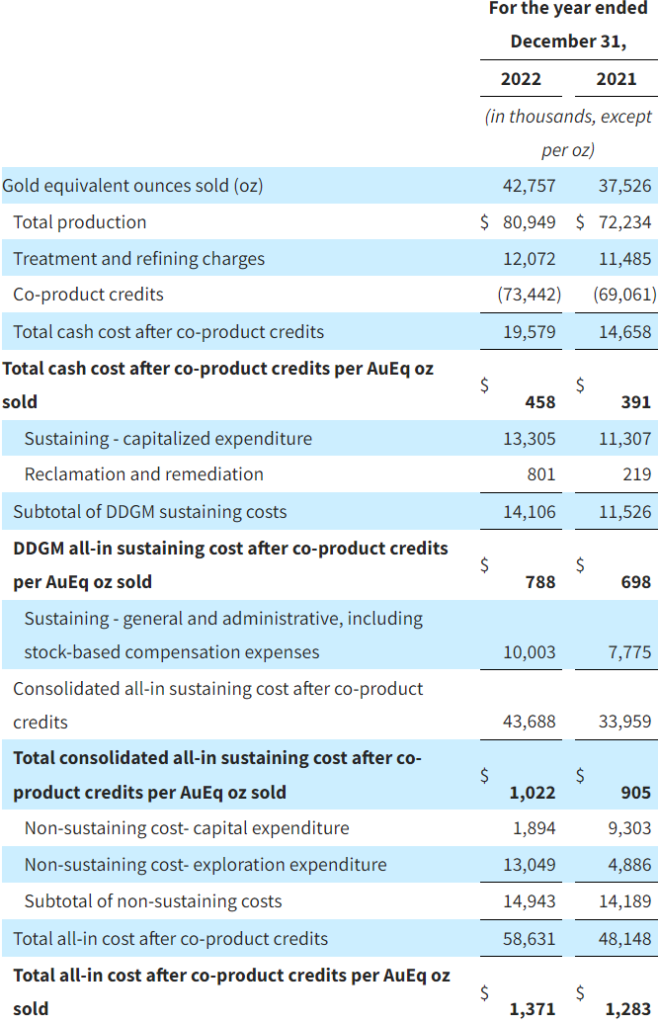 2023 Guidance
The Company's focus continues to be on unlocking the value of the Don David Gold Mine, existing infrastructure, and large property position in Oaxaca, Mexico and therefore we plan to make significant investments for infrastructure and exploration in 2023.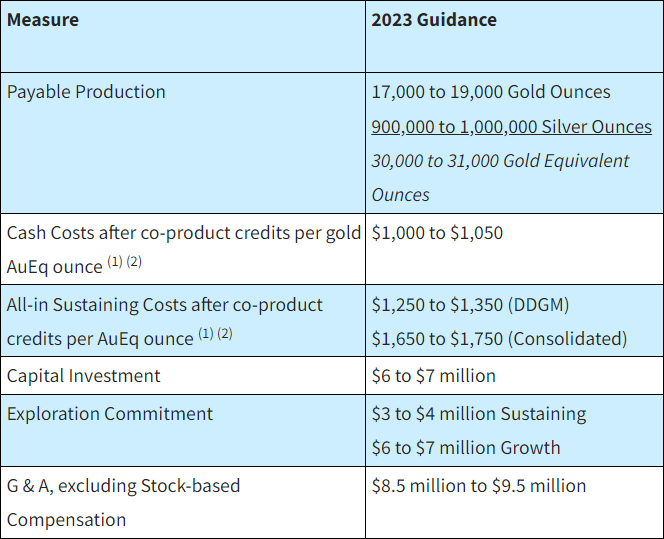 Calculations of cost after co-product credits per gold equivalent ounce and all-in sustaining cost after co-product credits per AuEq ounce are non-GAAP financial measures. See "Reconciliation of Non-GAAP Financial Measures" above.
Co-product credits directly impact the Cash Costs and All-in Sustaining Costs per AuEq ounce calculation. Guidance is based on approximately 4,200 tonnes of lead sold at an $0.91 per pound metal price, approximately 1,200 tonnes of copper sold at a $3.80 per pound metal prices and 11,200 tonnes of zinc sold at a $1.40 per pound metal price.
Trending Highlights (unaudited)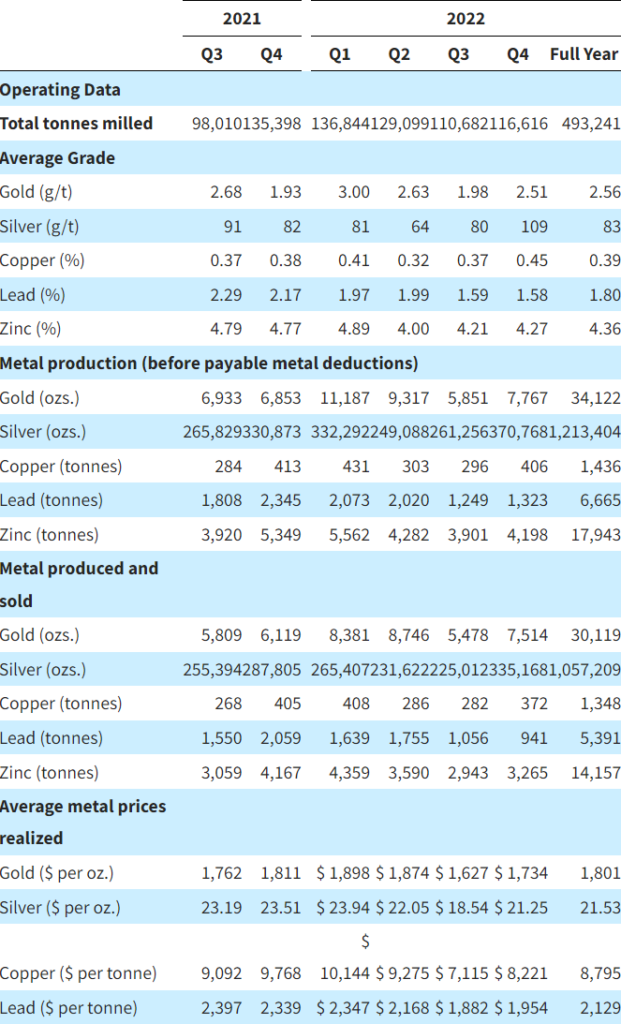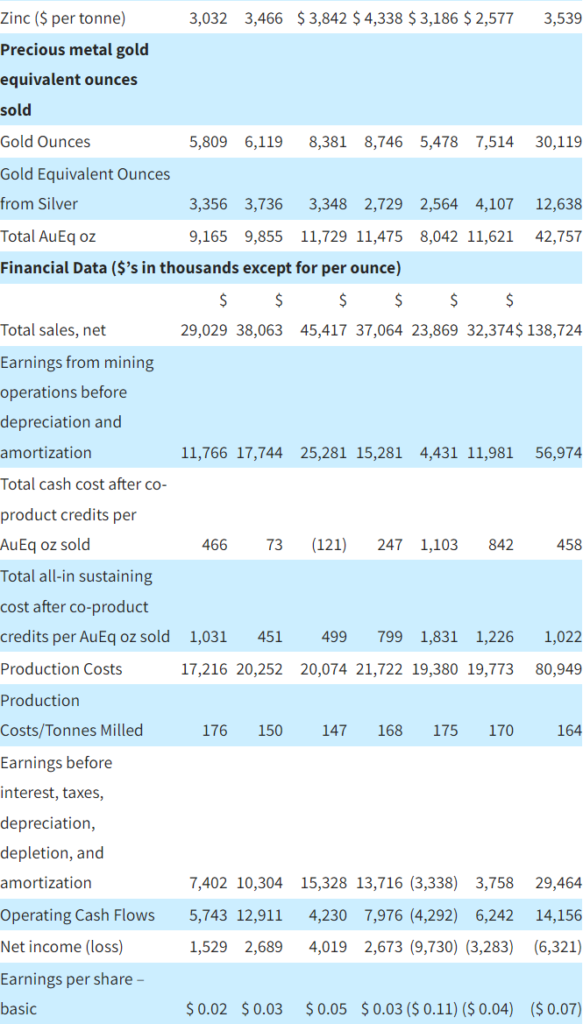 Year-End 2022 Conference Call
The Company will host a conference call Friday, March 3, 2023, at 10:00 a.m. Eastern Time. Our 2022 Form 10-K will be filed at a future date, no later than March 15, 2023, once our External Audit Firm, BDO USA, LLP, completes their audit procedures.
The conference call will be recorded and posted to the Company's website later in the day following the conclusion of the call. Following prepared remarks, Allen Palmiere, President and Chief Executive Officer, Kim Perry, Chief Financial Officer and Alberto Reyes, Chief Operating Officer will host a live question and answer (Q&A) session. There are two ways to join the conference call.
To join the conference via webcast, please click on the following link:
https://viavid.webcasts.com/starthere.jsp?ei=1594268&tp_key=1f4ada6e2c
To join the call via telephone, please use the following dial-in details:
| | | |
| --- | --- | --- |
| Participant Toll Free: | | +1 (888) 886-7786 |
| International: | | +1 (416) 764-8658 |
| Conference ID: | | 38298670 |
Please connect to the conference call at least 10 minutes prior to the start time using one of the connection options listed above.
About GRC:
Gold Resource Corporation is a gold and silver producer, developer, and explorer with its operations centered on the Don David Gold Mine in Oaxaca, Mexico. Under the direction of an experienced board and senior leadership team, the company's focus is to unlock the significant upside potential of its existing infrastructure and large land position surrounding the mine in Oaxaca, Mexico and to develop the Back Forty Project in Michigan, USA. For more information, please visit GRC's website, located atwww.goldresourcecorp.com and read the company's Form 10-K for an understanding of the risk factors associated with its business.
Forward-Looking Statements:
This press release contains forward-looking statements that involve risks and uncertainties. The statements contained in this press release that are not purely historical are forward-looking statements within the meaning of Section 27A of the Securities Act and Section 21E of the Exchange Act. When used in this press release, the words "plan", "target", "anticipate," "believe," "estimate," "intend" and "expect" and similar expressions are intended to identify such forward- looking statements. Such forward-looking statements include, without limitation, our ability to add to our mineral resource estimate at DDGM in the near- or mid-term; scope and timing of work at the Back Forty Project; and guidance for 2023, including payable production, cash costs after co-product credits, all-in sustaining costs, capital investment, exploration spending, and G&A spending. All forward- looking statements in this press release are based upon information available to Gold Resource Corporation on the date of this press release, and the Company assumes no obligation to update any such forward-looking statements. Forward looking statements involve a number of risks and uncertainties, and there can be no assurance that such statements will prove to be accurate. The Company's actual results could differ materially from those discussed in this press release. Also, there can be no assurance that production will continue at any specific rate. Factors that could cause or contribute to such differences include, but are not limited to, those discussed in the Company's filings with the SEC. Additional factors that could cause or contribute to such differences include, but are not limited to, volatility in commodity prices; changes in interpretations of geological, metallurgical, mining or processing information; interpretations of the information resulting from exploration, analysis or mining and processing experience; unexpected increases in costs; general economic conditions; and other factors discussed in the periodic and current reports filed by the Company with the Securities and Exchange Commission, including the Company's Annual Report on Form 10-K for the year ended December 31, 2021.
Contacts
Kim Perry
Chief Financial Officer
[email protected]
Original Article: https://goldresourcecorp.com/news-releases/gold-resource-corporation-reports-results-of-opera-4996/