silver lining to the fourth quarter from Fresnillo.
The London-listed Mexican miner's silver production climbed by 15.5 per cent to 12.3m ounces, ahead of its own guidance as it processed more ore at its Saucito mine and increased production at its Silverstream mine.
But it was not enough to burnish its share price today as investors reconsider their mining bets.
Nor was full-year silver production of 45m oz, also ahead of guidance. Or gold output which at 173,471oz was up 77.4 per cent from a year ago now that its Herradura mine is back in full swing after an explosives permit suspension held back the prior year figure. Fresnillo also benefited from the buyout of Newmont Mining's minority stake in their Penmont joint venture.
The miner's upbeat tone about its silver output this year, as it guided investors to between 45m-47m oz, and gold output of 670,000-685,000 oz also failed to buff its share price.
Yet, with development projects coming on stream quickly (including a handy boost from Saucito II in the fourth quarter), operational setbacks at its Fresnillo and Herradura mines being addressed and capital expenditure approaching a peak, the Mexican miner is still on track to lift silver output by half to 65m oz and gold to 750,000oz by 2018. Not shabby at all.
For all the promise Fresnillo exudes, the falling silver price has put a lid on its capex outlay and on investor confidence. It will cut its exploration budget to roughly €170m this year, down 8 per cent from 2013. It could cut harder.
Peruvian rival Hochschild has also been reconfiguring itself for the white metal's lower price. But Fresnillo still has an advantage as the silver price languishes around $18 an ounce. Its all-in sustaining costs of $7.66/oz at its Saucito mine (at the last count) are roughly half Hochschild's most realistic $15-$16/oz group-wide target.
Fresnillo's wiggle room is amply captured in its stockmarket rating. More when it releases full-year results next month.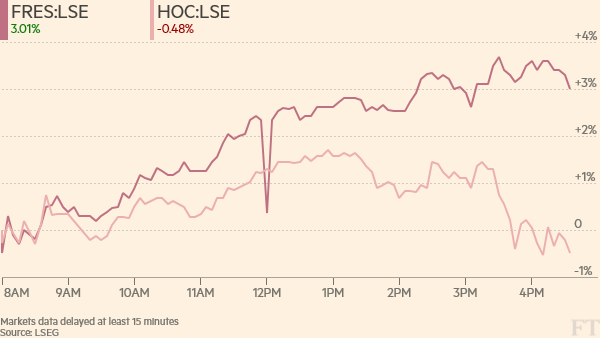 Original Article: http://www.ft.com/fastft/269072/fresnillo-production-data-demonstrate-resilience