On Jan. 24, 2012 First Majestic Silver Corp. (AG) announced the inauguration of the new La Parrilla floatation/cyanidation plant in the State of Durango, Mexico on Jan. 18. The new plant has a total capacity of 2,000 tpd (1,000 tpd in the flotation circuit and 1,000 tpd in the cyanidation circuit). It is expected to be operating at full capacity in February 2012. It is currently operating at 1,500 tpd. Once completed, annual production from La Parrilla mine is estimated to be approximately 3.0 million ounces of pure silver, 6.0 million pounds of lead, and 4.3 million pounds of zinc. AG is now set to grow EPS by 73.10% in 2012. This is great news for investors, and it should provide a springboard for AG's stock price to move significantly upward.
This is just one of First Majestic Silver's many projects. It has three 100% owned and operated producing mines (La Encantada, La Parrilla, and San Martin). It has a fourth mine undergoing construction and development — Del Toro. It has a fifth mine in the exploration and permitting stages — La Luz. In Q4 2011 First Majestic Silver Corp. produced 1.96 million silver ounces (2.1 million silver equivalent ounces) and 7.6 million silver equivalent ounces in FY2011. This last was an 8% increase over the total of 2010. This is good growth. However, it does not begin to compare to AG's plans for the near future. It gave guidance for 8.9 million to 9.4 million equivalent ounces of silver in 2012. It has more extraordinary plans for the following years as the Del Toro mine will reach production in Q4, and it is expected to produce over 6 million equivalent ounces of silver per year by 2014. From just the first four of the mines above, AG has plans to reach 16 million equivalent ounces of silver production by the end of 2014. The chart below shows the approximate growths of each of the four mines.
Click to enlarge images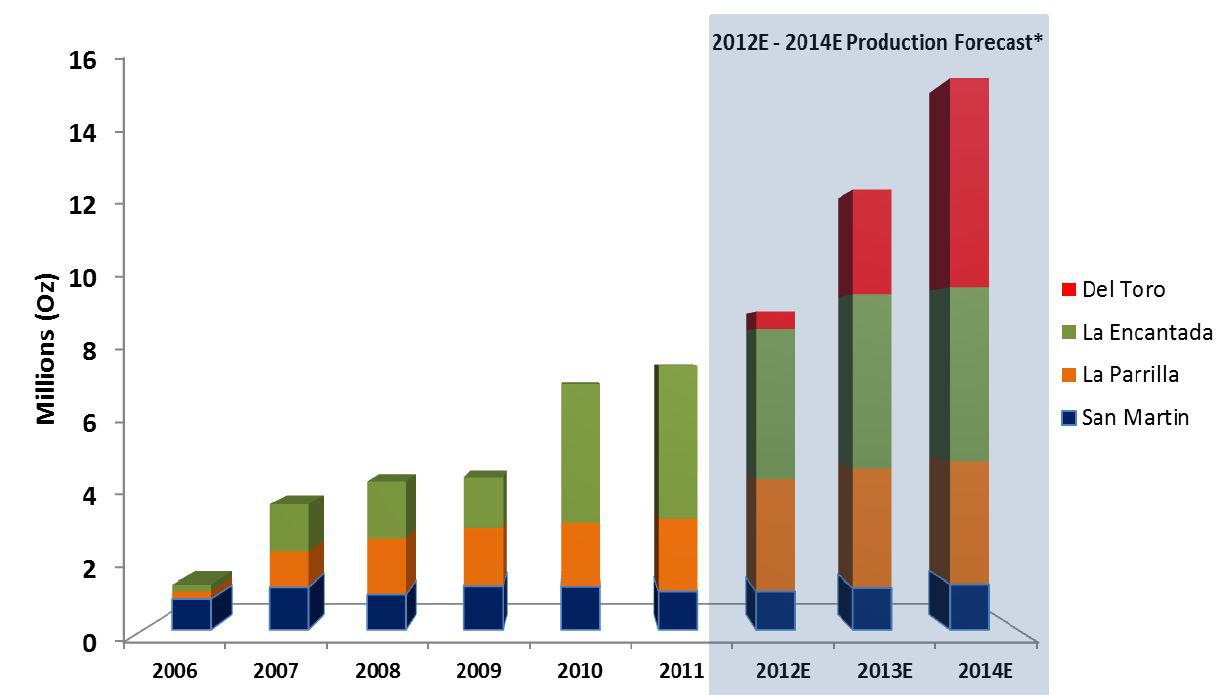 Beyond the above four, AG has the La Luz project, and it may during the intervening time purchase further prospective mines. Growth should be great, but AG is showing it is a great company by more than just growth. AG is also keeping the costs of the produced silver down to better than industry average levels per ounce. The following chart shows AG's relative production growth and relative cost figures compared to other major competitors. This chart below is truly a "buy" signal for this silver mining company.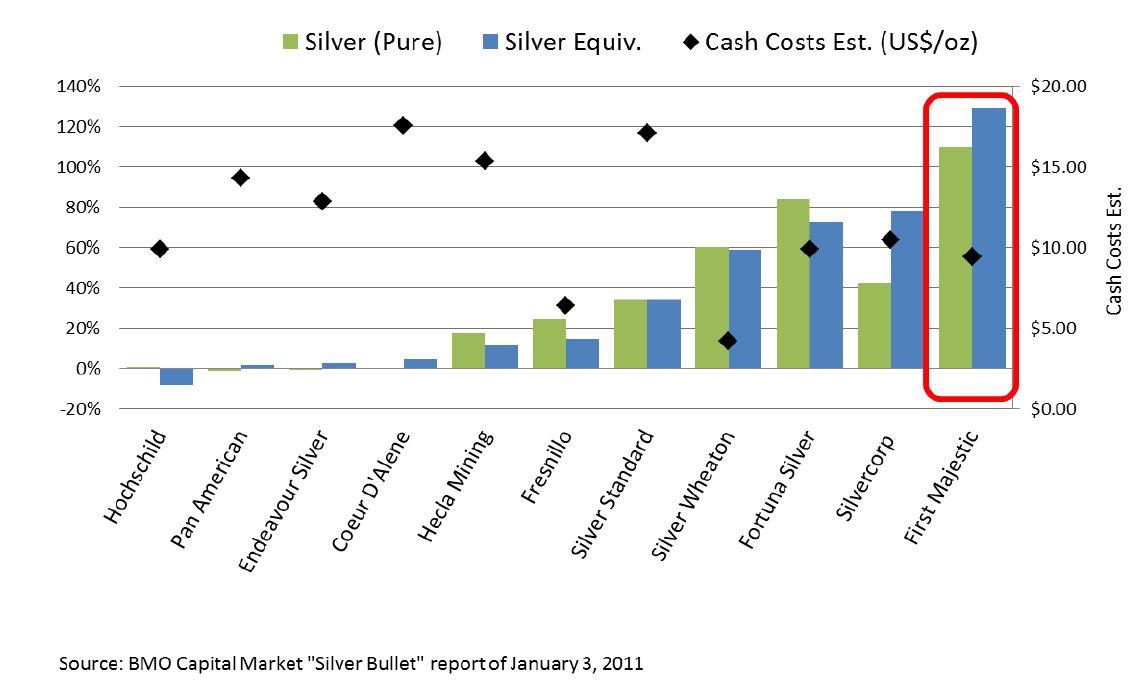 NOTE: The ticker symbols above are in order: (HCHDF.PK), (PAAS), (EXK), (CDE), (HL), (FNLPF.PK), (SSRI), (SLW), (FSM), (SVM).
More than this, AG has been growing its cash position. It has grown this from $5.9M in 2009 to $40.9M in 2010 to $106.2M in 2011. This is impressive for a company expanding at the rate AG is. AG is a $2.14B market cap stock. It has very little short interest. It has no debt. It has a Beta of 1.29, which is low for a small/medium cap stock in a volatile industry. AG trades at a PE of 22.98 and an FPE of 10.93. The FPE should increase dramatically after the company officially reports Q4 2011 results (or Yahoo Finance recognizes the report it has already put out). Yahoo Finance is still showing the forward year as 2012. When this moves to 2013 on the Q4 2011 report, it will mean that the FY2013 production from the Del Toro mine will be added in. This should help results demonstrably. Del Toro is forecast to produce 3.0 million equivalent ounces in FY2013 and 6.0 million equivalent ounces in FY2014. This new production will give results a significant pop. When the FY2013 Del Toro production profits show on Yahoo Finance in the FPE, the average investor will start piling in. You might consider getting in before the crowd on what is almost certainly a great long term bargain.
The two year technical chart provides some information about a potential trade.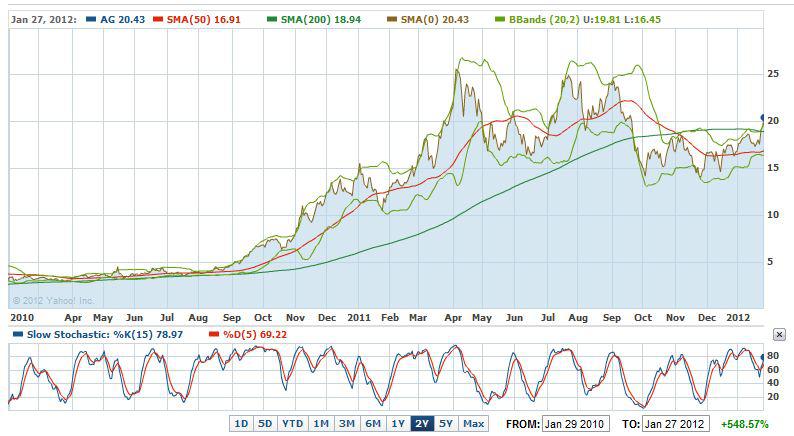 AG is near or at overbought levels on the slow stochastic sub chart. This indicates some caution is warranted. However, in this case that caution may be misplaced. AG has been in a consolidation phase for the last six months. It has just pushed past its 200-day SMA. Its 50-day SMA is starting to trend upward. AG could easily push through the 200-day SMA in the near term. This would be another buy signal. The first target for this stock, which closed at $20.43 at the Friday Jan. 27, 2012, would be approximately $25 in the near term. It may push through this on great expectations and great growth. AG is currently forecast to grow EPS 73.10% in 2012 (over 2011). With the addition of the 3 million equivalent ounces from the Del Toro mine in 2013 and the other expected growth, the growth for 2013 may well exceed this figure. This growth rate makes AG a huge bargain. A lot of people will want to buy AG. You may want to get in now even though the slow stochastic sub chart warns against it.
As a compromise, you could average in. After all the market could decide to retrace at any time. The Q4 GDP estimate of 2.8% growth was a miss from the expected 3.2% (Yahoo Finance). The recent inventories data were higher than expected, and the retail sales in December were disappointing. Plus the overall market is over bought at this time. These kinds of data could turn the market downward in spite of the QE driven exuberance that has seemed to pervade the markets recently.