Highlights
Refinement of drilling plan designed to achieve multiple exploration objectives
Resource drilling along the open and expanding El Refugio structure
Expansion of the resource footprint:

La Soledad vein swarm extension beyond the current 300m depth and towards the deep intersection with El Refugio structure

El Cometa drilling to target deeper mineralised zones toward El Refugio structure

First drill holes at the adjacent Los Pinos target

Maiden JORC resource estimate on track for second half of 2021
---
Mithril Resources Ltd (ASX: MTH) (Mithril or the Company) is pleased to provide an update on the drilling plan progress and exploration activities at its Copalquin Gold Silver District, Mexico.
Mithril CEO and Managing Director, John Skeet, commented:
"The drilling plan in the Copalquin District has been enhanced to target the mineral extensions at El Refugio, El Cometa, La Soledad and the untested target of Los Pinos all contiguous and within the Cometa Project area of the Copalquin Gold Silver District. We have entered an exciting phase of the exploration where we have greatly advanced our understanding of this extensive epithermal gold and silver system and are targeting the important interaction between the multiple vein structures as well as extending the mineralisation even further along strike and at depth."
A review of the drilling plan in the Copalquin district is ongoing as we expand our knowledge and understanding of this major epithermal centre for gold and silver. The company has demonstrated a significant mineral discovery with continuity of mineralisation over a significant distance at El Refugio. The Mithril team has designed a program to develop this area towards a maiden mineral resource estimate while simultaneously allocating drill metres to the best of the untested exploration areas. The main points of the current program are given below.
Extend the Refugio clavo ('ore' shoot) down-dip

The Refugio mineralised zone now extends 600m along strike and 200m down dip and varies from 3m to 25m wide. The high grade clavo has been tested for 100m along strike and 175m down-dip with an approximate width of 5m.

Two holes will be drilled to test the down-dip continuity of the high-grade zone below holes CDH-050 4.17m @ 62.0 g/t gold and 445 g/t silver from 233.43m, CDH-062 4.82m @ 4.12 g/t gold, 107.13 g/t silver from 259.7m and CDH-063 8.0m @ 5.32 g/t gold, 104.63 g/t silver from 289.3m.
Maiden drill holes at the Los Pinos target

The Los Pinos target is supported by favourable structure identified by geologic mapping, a large area of clay alteration similar to Cometa/Refugio and an extensive silver-in-soils anomaly. These are considered to be first-pass, high risk holes, but they have the potential to increase the strike length of the known mineralisation by as much as 600 meters to the east from CDH-027 11.7m @ 1.16 g/t gold, 70 g/t silver from 10.9m.
Extend three holes at La Soledad to confirm the continuity of the deeper Leon vein structure

First pass drilling at La Soledad in 2020 targeted the margins of the historically mined stope. High- grade intercepts from CDH-014 7.5m @ 6.74g/t gold and 158.1 g/t silver from 253.8m and CDH-054 4.88m @ 10.36 g/t gold and 80.9 g/t silver from 288.25m are within the Leon Vein. Our 3D modelling suggests that holes CDH-004, CDH-012 and CD-013 terminated short of the deeper Leon vein. These holes will be re-entered and extended to cross the Leon vein structure as shown in Figure 1.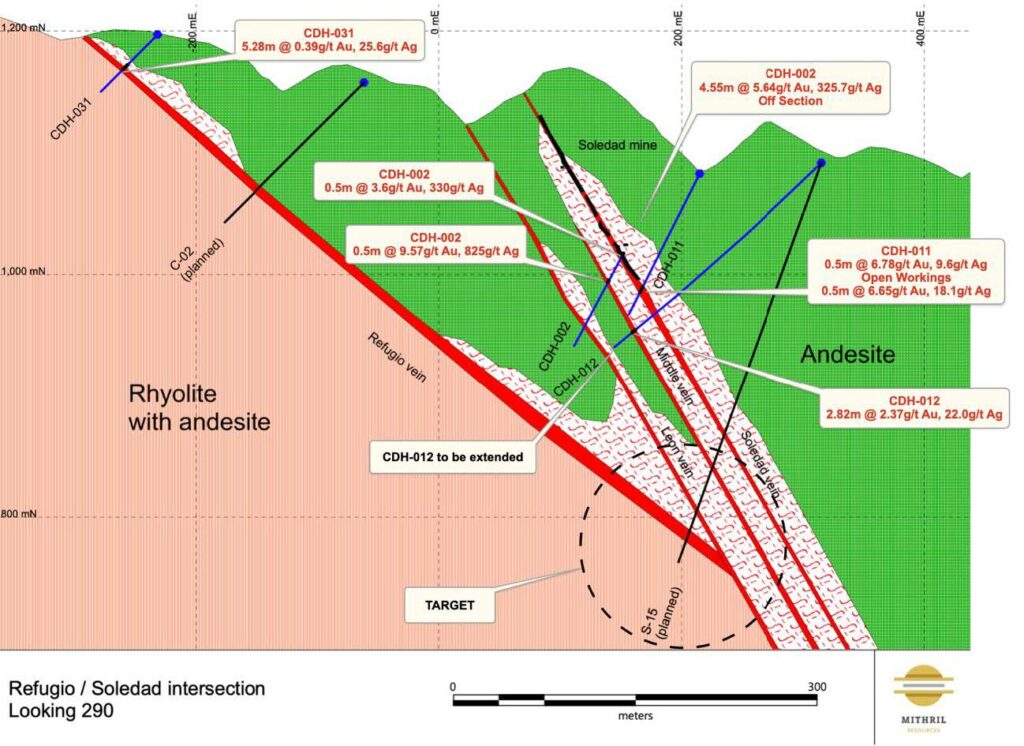 Deep exploration drilling at La Soledad

After completing the extensions of three holes at Soledad, two deep holes will be drilled targeting the Soledad vein and the Leon vein near the projected intersection with the large Refugio breccia zone. See circled zone in Figure 1.
Extend the near-surface intercepts at El Cometa down-dip to the deeper high-grade intercepts in the El Refugio structure

Drilling at Cometa has focused on the shallow mineralised zone explored by Bell Coast Capital and UC Resources from the late 1990's to the early 2000's. Mithril's next pass drilling will include a twin of an historic drill hole and will step down dip to infill between holes CDH-061 7.75m @ 0.95 g/t gold, 24.7 g/t silver from 272m and CDH-027 11.7m @ 1.16 g/t gold, 70 g/t silver from 10.9m.
ABOUT THE COPALQUIN GOLD SILVER PROJECT
The Copalquin mining district is located in Durango State, Mexico and covers an entire mining district of 70km2 containing several dozen historic gold and silver mines and workings, ten of which had notable production. The district is within the Sierra Madre Gold Silver Trend which extends north-south along the western side of Mexico and hosts many world class gold and silver deposits.
Multiple mineralisation events, young intrusives thought to be system-driving heat sources, widespread alteration together with extensive surface vein exposures and dozens of historic mine workings, identify the Copalquin mining district as a major epithermal centre for Gold and Silver.
Mithril Resources is earning 100% interest in the Copalquin District mining concessions via a purchase option agreement detailed in ASX announcement dated 25 November 2019.
-ENDS-
Released with the authority of the Board.
For further information contact:
Competent Persons Statement
The information in this report that relates to sampling techniques and data, exploration results and geological interpretation has been compiled by Mr Hall Stewart who is Mithril's Chief Geologist. Mr Stewart is a certified professional geologist of the American Institute of Professional Geologists. This is a Recognised Professional Organisation (RPO) under the Joint Ore Reserves Committee (JORC) Code.
Mr Stewart has sufficient experience of relevance to the styles of mineralisation and the types of deposits under consideration, and to the activities undertaken, to qualify as a Competent Person as defined in the 2012 Edition of the Joint Ore Reserves Committee (JORC) Australasian Code for Reporting of Exploration Results, Mineral Resources and Ore Reserves. Mr Stewart consents to the inclusion in this report of the matters based on information in the form and context in which it appears. The Australian Securities Exchange has not reviewed and does not accept responsibility for the accuracy or adequacy of this release.
Original Article: https://investi.com.au/api/announcements/mth/14dcd259-1f9.pdf